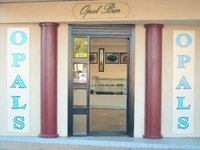 Reviews
I am VERY proud of my products and are keen to hear what you have to say. My opals are my passion. Creating beautiful opals, opal Carvings, opal jewellery, designing and selling to the pulic is what I am about.
Add entry
Popped in to The Opal Bin today to see the range, colours and designs, and to find some nice rough or rubs.
The impressive array of beautiful and unique pieces some being set by a local jeweller (Gerd -down a few doors) blew me away!
Aided by Justine's expert and friendly advice and deep knowledge I was able to make an informed investment in some rubs to work with.
Will be back for more next year.
Keep it up guys!
Roger G, Higgins. ACT
Guest
17/03/2017 12:24 PM

Hi Justine: Many thanks for your understanding and professional service. You just shine the Outback in my heart & best wishes for your business.
Gina and Tim From Coober Pedy South Australia.

Very well set up, very good displays, friendly and helpful.

We will visit again for sure.
Guest
11/03/2016 10:59 PM
A big thank you to Justine at Opal Bin for her warm and friendly help in choosing the perfect Lightning Ridge black opal for our engagement ring. We love it. Also for recommending Gerd the master goldsmith to make the ring to set the stone, Gerd is a brilliant craftsmen. We are hoping to come back at Easter if we can get time off to have a wedding ring made also. Worth the 15 hour drive to visit the Ridge and chat again to the wonderful people who live in the Ridge. Thanks again Jeanette and Andrew
18/4/2014
Jake Heger, Antartica
Twas Sick as!

Justine Buckley
18/12/2015 9:39 AM
21/3/2014
Rod and Tania Barrett, Runaway Bay, QLD
Excellent display! Beautiful pieces
Justine Buckley
18/12/2015 9:37 AM
5/12/2013
Graeme & Lynne Hugo
Makes you appreciate the end product
Justine Buckley
18/12/2015 9:36 AM
A & C Murray, France, 25/10/2013
Really genuine people, thanks
---